Air heat exchanger S550 60000 Kcal/69kW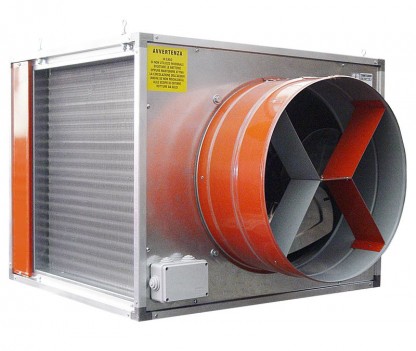 Air heat exchanger S550 60000 Kcal/69kW
Heat exchanger with integral ventilation fan of copper/aluminum elements on each side, depending on its size.
This combination provides an optimal solution for hydronic heating, ventilation.
For installation in industrial premises, garages, sheds and greenhouses with plant production.
The jet-fan was developed to transfer the heat, produced by an external water boiler to the air passing through the special copper/aluminium exchangers.The fan can efficiently distribute the hot air in the surrounding space both directly and through canalization. It is characterized by a sturdy steel wallhousing with two water/air heat exchangers and axial electric fan for air diffusion. F-OTB was specially developed to solve heating, ventilation, air circulation and humidity problems in agricultural and industrial environments where it is important to maintain steady conditions.

Six panels directly driven propeller in aluminum alloy, designed for high air flow and low noise.
Three-phase electric motor, six-pin, IP55 Class "F".
Airflow stabilizer in a flexible output.
Air intake closure controlled by a servo motor.
Framework to fix the fan on the wall on the intake side.
Two water elements in copper/aluminum fixed to the sides.
Threaded water pipe for pipe connections.
Two connection boxes for electric motor and servo motor.
Easy access to all internal parts for maintenance and cleaning.
Data
Model
550

Power

69

kW

60.000

Kcal

Water flow rate

6.000

l / h

Element batteries

2

Frontal radiator surface area

30,25

dm²

Pipe

R32

Air circulation

6.000

m³/h

Fan revolution

1.380

rpm

Fan motor power

0,5

kW

Voltage

400

Volts

Weight

68 kg

Length A

1075 mm

Width B

655 mm

Height C

655 mm

Diameter D

480 mm


Pressure drop through radiators

0,86m/H²O

Noise level at 5 m

53dB(A)
Table calculated on the following values
Incoming temperature +75°C, Return outlet temperature of +65°C, inlet air temperature 15°C