Air heater for wood burning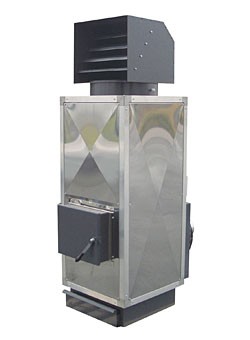 Air heater for wood burning
Four models are available: GPTEMD30E, GPTEMD30C, GPTEMD60E, GPTEMD60C.
Greenpower-Heating for wood. (Combustion for pellets can be attached, depending on type of connected model.)
Each model is manufactured in stainless steel and equipped with a great combustion chamber. The fan is connected to a rotating exhaust which is attachable to a channel connection. Air flow is 2500 to 9500 m³/h.
Refilling the chamber can be done via a hatch (350 x 350 mm). You will find that you get easy accesability to a large retractable ash tray of at the bottom of the heater. The ash tray also works as an air-intake which is also adjustable.
Attach the chimney at the back of the heater. You can install the heater to an already existing chimney or use our isolated chimney- delivered in sections of 0.5 and 1 m. The heaters are certified in 98/37CE, 73/23CEE och 89/336CEE.
The product can also be suplemented with a centrifugal fan, this will result in an extra charge.
Model
GPTEMD30E/30C
GPTEMD60E/60C
Area of heating*
30-150 m²
150-400 m²
Effect
34.8 kW
30.000 kcal/h
69.76 kW
60.000 kcal/h
Air flow
2500 m³/h
5000 m³/h
Pressure Pa
80
80/80
Exhaust
ø 440
ø 440
Sound fan, Max
dB 80
dB 82/71
Fan
0.44 kW, 230 V, 50 Hz
0.55 kW, 230 V, 50 Hz
Chimney attachment
Ø150 mm
Ø200 mm
Hatch opening
350×350 mm
350×350 mm
Combustion chamber**
Ø450 mm,

Height

700 mm
Ø620 mm,

Height

850 mm
Volume
110 liter
250 liter
Size (W×H×D)
630×1950×900 mm
860×2300×1390 (60C: 1440) mm
Weight
130 kg
255 kg
* Depending on the covering of the room
** Cylindrical shape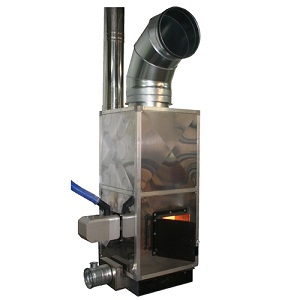 A boiler with the option image shows extra equipment such as pellet connection, on-air connection, air duct and part of the chimney.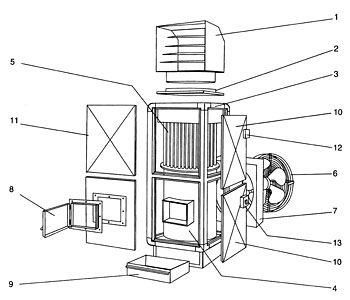 1 Roof hood, 2

spigot

, 3 Framework, 4 Stainless steel combustion chamber, 5 Heat exchanger, 6

Fan protection

, 7 Fan cover, 8 Hole, 9 Ash box, 10 Insulated reflector plate, 11 Cover flap, 12 Thermostat, 13 Motor protection.