Bird repeller electronic ultra soundless sonic 4 transmitter 220volt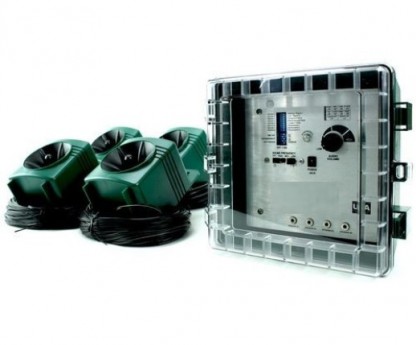 Bird repeller electronic ultra soundless sonic 4 transmitter 220volt
Do you have unwelcome birds in your garden or local? Then you will benefit from ultra sonic scarecrow, which effectively eliminates unwanted birds from your garden, fruit farm, restaurants or hotels, etc. It uses naturally recorded bird sounds and predators, which are completely harmless to birds and other animals.
Optionsto add 3 Visual Scares to package for efficiency send out a combination of audio and high frequency sound waves that are silent to most people.
Sonic: Uses naturally recorded birds and predators and covers up to 6 hectares (261,360 sq ft) sonic, 3,600 square feet ultrasound.
Ultrasonic: Uses high frequency sound waves; covers up to 3,600 square feet of 4 speakers included -independent speaker with 100 feet of each thread.
Fully programmable - control volume, audio delays and daylight / night mode.
The nema type box is designed to withstand outdoor use.
Effective against: pigeons, mosses, crows and sparrows and much more.
Perfect for use: warehouses, manufacturing facilities, parking garage, hotel and large gardens, homes, patios, boats, docks and many more places.
You do not need any regular cleaning and repair costs.
Protect the building and its equipment from corrosive bird waste.
Reduce health risks and spread of diseases.
Eliminate fire hazards caused by birds built in cubicles, valves and chimneys.
Create safety and maintenance freely in yards, business areas, pools, ponds, grass etc. now from bird damage.
Increase and maintain is property aesthetics.
Reduce disturbance for residents, workers, customers, etc.

Technical data
Dimensions: control unit= 9"x 9"x5"(229x229x127 mm), speaker= 4"x4"x6"(102x102x152 mm)
Box dimensions: 19"x 13" x 8"(483x330x203 mm)
lbs speaker: 8Ω, 75W
Coverage: up to 3,600 square feet (ultrasound), up to 6 acres (sonic)
Power requirements: 110vAC (220vAC available) 110v, 220v and 240v cables are 6ft
Sound pressure: ultrasound sounds 95-102 dB (each speaker) at 1 meter, sonic 105-110 dB (each speaker) at 1 meter
Frequency: ultrasound 15-25 kHz, sonic 3-5 kHz
Conformity: The supplied power source is UL and CE listed
Recommended usage: outdoors
This device contains a control box that uses a replaceable chip, any chip from the audio recording list is compatible.
The result is outstanding and recommended by Garden Technology, please contact us for other options.
For many years, we have been abetting to have bird control in crops, but also strongly in need of a hotel and resturant page.
We have developed these over the years and today we can introduce a flexible device where you can now choose either sound or soundless.
A very efficient device that creates a bird-free environment. It is good to order directly at ttshop.se