Hot air boiler MASTER GP Movable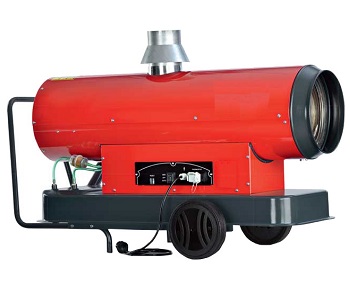 Hot air boiler MASTER GP Movable
Our product portfolio includes two models of MASTER GreenPower, GP25 och GP50- these hot air boilers are of the highest quality and are designed to be mobile.

The burning chamber is made of stainless steel and it is equiped with an automatic fan that is temperature-controlled (the fan stays switched on until the heater has cooled, then it automically turns itself off to protect itself from overheating,) the burning chamber also comes with a chimney connection. It is also possible to attach an automatic thermostat, for temperature regulation, to this product.
Plus, the hot air boiler is suitable for medium and closed spaces and it is an excellent heating device for green houses, agricultural use, garages, warehouses and construction sites.
In addition to these features, this diesel driven Greenpower hot air boiler is a good economical choice to suit your needs.

Metal structure painted with epoxy powders.
Stainless steel fully proof combustion chamber.
Electronic flame check with photo-resistance and equipment.
Safety thermostat for excess temperature.
Post-ventilation device for combustion chamber cooling.
Efficiency up to 90%.
Pre-set for ambient thermostat.
Suitable for max. 12 meters ducting with standard conveyor and spiral pipe kit.
Suitable for closed environments.
Master GP25
Master GP50
Effect
25 kW
21.500 kcal/hour
50 kW
41.200 kcal/hour
Efficiency
ca 100%
ca 100%
Oil usage*
1.86 l/hour
3.40 l/hour
Chimney exhaust
Ø120 mm
Ø150 mm
Air circulation
1750 m³/hour
1900 m³/hour
Air exhaust
Ø300 mm
Ø350 mm
Built-in oil tank
35 l
70 l
Power consumption
0.25 kW, 230 V, 50 Hz
0.3 kW, 230 V, 50 Hz
Size (L×W×H)
1250×550×810 mm
1700×560×1020 mm
Weight
52 kg
103 kg
Certificate
CE-norm 98/37, CEE73/23, CEE89/336, SE
* Controlled operational position
Master GP80
Effect
80.6 kW
69.316 kcal/hour
Efficiency
ca 100%
Oil usage*
6.8 l/hour
Chimney exhaust
Ø150 mm
Air circulation
3900 m³/hour
Air exhaust
Ø350 mm
Built-in oil tank
120 l
Power consumption
750 V
Size (L×W×H)
1600×750×1200 mm
Weight
152 kg
Certificate
CE-norm 98/37, CEE73/23, CEE89/336, SE
* Controlled operational position
---
For more information please contact us: +46(0)431-222-90