Lamp armature for Greenhouses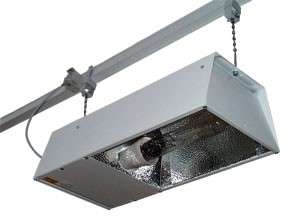 Armature for high pressure sodium lamps
High quality armature for greenhouses, with built-in reflectors that give optimal illumination for growth and plant production within greenhouses, garden centers or closed spaces. The armature is built for both metal halide and high pressure sodium lamps.
You should note that the armature comes without a connection cord and lamp but this can be ordered with a high pressure sodium lamp and a connection cord (you will need to specify the length of the cord).
*The armature on the picture is shown with extra accessories.
Points you should consider:
• Ventilation reduces heat and increases the lifespan of your bulbs.
• Frame consists of electric galvanized sheet metal with epoxy coating.
• Reflectors are made using polished aluminium.
• Ventilated connection box.
• IP23, protected against dripping water.
• Electric connection: 230 V, 50 Hz.
• Cap Base: E-40
• CE-certification.
• Size: 540x266x148 mm
»
Measures

ORDER