Watering bags for recently planted trees and bushes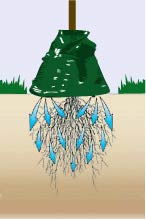 Watering bags for recently planted trees and bushes
The ideal watering bag secures recently planted trees. This new patented system is produced in two sizes, with volumes of 56 and 112 litres. It is easy to install and easy to fill, saving you up to 80% of the work.
This product is very effective because the slow release watering-process can provide from 5 to 8 hours of continuous watering. Further more, if you put together 2 drip-bags you can double the amount of water.

It is recommended that customers fill these bags upto twice a week.
These bags are made from UV- stabilized PVC
They come with a 1 year factory guarantee
Delivery is in packages based on what is requested upon ordering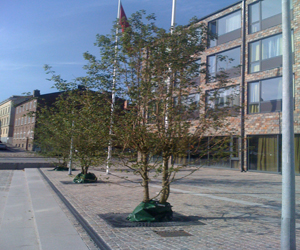 Watering bags are perfectly suitable for irrigation of recently planted trees and bushes.
Watering bags have a drip-system that have a positive influence on the development of trees as they grow. The tree "believes" that this kind of watering is natural rain over the course of a day.
During first few days the watering bag provides the tree with a lot of water in a natural way, so as to "charge" the trees' energy reserves. Then the amount of water, that the watering bag extracts, begins to slowly reduce. The tree then produces new roots in search of new water. At the end of this, when water within the bag runs dry, the tree feels a bit stressed. During this time the tree is in its most active phase of producing new roots to survive. When you fill the watering bag (because the bag is empty,) the cycle starts all over again.
Research shows that the use of such watering cycles repeatedly (which involves various "charging" and stress periods for the tree) is the fastest and most efficient method for the developing of a maintenance-free root system.
If you buy at least 50 or 100 bags at a time, you can buy them at a very favorable price!