Mobile battery powered sprayer for professionals 18 liters 4 bars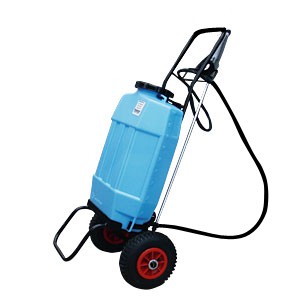 Rechargeable sprayer on wheels
This sprayer comes with a rugged wheel construction to afford short and fast moving with no efforts for the operator. This sprayer was specifically designed and constructed to afford operation as fast and effortlessly as possible, especially for those having to deal with severe operating conditions.

The sprayer is skillfully installed on a wheel. Rechargeable battery and manual lance with start/stop lever is also included in the delivery scope. Wheeled sprayers are also equipped with battery recharger. The sprayer is an intelligent tool, meaning that no pressure boosting is required because the pump is ready for spraying when you switch it on.

The rugged wheel construction is very handy to move around. Wheeled sprayers are normally equipped with a 2m long, hose of reinforced PVC so that the operator can safely stand at any distance from the target spray area. Versatile, ergonomic, and easy to use are the raising pluses of this wheeled sprayer. Excellent tool for DIY applications. No need to worry about carrying heavy load on your back and yet a wide work range, so that the operator can also move away from the cart.
F200 is a lightweight and very easy to service sprayer on wheels with an ergonomic grip handle, providing a syringe easy to move around and pleasant to work with. The sprayer is ideal for combating pests, weeds, fungi and plant treatment in greenhouses and garden centers etc.
The tank is realized in plastic high quality- resistant to corrosion – resistant to impact and UV rays.
The sprayer is powered by a rechargeable 12V battery with a continuous operating time of about 3.5 hours. The supplied automatic charger is simply connected to the pump control panel.
The syringe pump provides continuous pressure of 3.2 bars , which is easily controlled from the lance manometer.
The nozzle holder has an anti-drip adapter which allows one not to be dripping. Accompanying nozzles are crevice nozzle and adjustable circular nozzle.
Accessories: extension lances, nozzles, shoulder straps, screen sprinkle and spray booms.

Fields of Application
Weeding
Pest Control
Gardening
Horticulture
Agriculture



Technical data




Capacity: 3.2 bar




Tank size: 20 liters




Battery: 1 pc 12 V (7.2 A)




Dimensions (approx.): 80x40x25




Hose length (approx.): 2 m




Warranty: 1 year factory warranty
Pump: Diaphragm pump for general use- liquid agents as well as water soluble powders